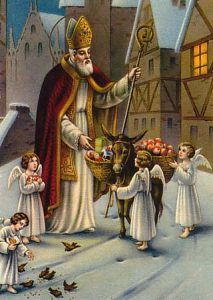 I wanted to write a personal little Christmas letter to all four of my dear kids and 10 grandkids.
Would you agree that Christmas ought to be far more exciting than the 'tinsel-town' fluff that's typically merchandized so heavily in our desensitized, fast-paced society?
I wanted my own kids to get this clearly so they would help my grandkids to personally know the One for whom the original Santa Claus sacrificed his life… but you all might like to use it yourselves in sharing this Christmas season in a life-changing way. You could even gather your little ones around you to read this short review of how we got some of our Christmas traditions.
Today's Western world is so monopolized by highly marketed big business and the secularized 'lame-stream' media that it's completely understandable how the true origins of Christmas and many of its colorful traditions have been stolen and hijacked. (more…)