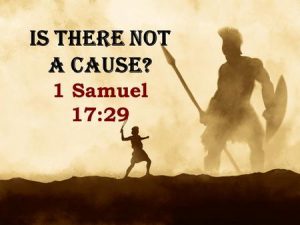 "Is There not a cause?" asked the shepherd David in Israel 3,000 years ago, when he witnessed the fear of Goliath among his fellow countrymen.
It's bad enough when the enemies of your own life overwhelm you with fear.  But when the enemies of your whole culture, indeed of the very kingdom of your God, are openly hostile to the absolute values and objectives of life itself, do you think we might possibly be encouraged by this memorable ancient landmark recorded so specifically for us in our Bible?
I'm reminded of the Apostle Paul's insight in Romans 15:4, telling us that:
"whatever was written in earlier times was written for our instruction, that through perseverance and the encouragement of the Scriptures we might have hope."
Do you think that our generation could use some hope?  Do you sense that Christians and non-Christians alike are feeling overwhelmed by the "Goliaths" that threaten our very existence in today's world?
Take a little time to personally review the story of David's encounter on the battlefield with the giant Goliath in first Samuel 17.
There are lots of Scriptural encouragements. We must continually reflect on them when facing fearful conditions.  Those causes may make us faint or recoil from the calling of God on His people and on us individually.  We need strength that comes from His Word.
"The battle is the Lord's"
1 Sam. 17:47.
And that declaration emboldened David to proclaim to his enemy that God "will give you into our hands."
… Let's read the whole passage beginning after Goliath's cursing of David, at verse 45.
" Then David said to the Philistine, "You come to me with a sword, a spear, and a javelin, but I come to you in the name of the LORD of hosts, the God of the armies of Israel, whom you have taunted. 46 This day the LORD will deliver you up into my hands, and I will strike you down and remove your head from you. And I will give the dead bodies of the army of the Philistines this day to the birds of the sky and the wild beasts of the earth, that all the earth may know that there is a God in Israel, 47 and that all this assembly may know that the LORD does not deliver by sword or by spear; for the battle is the LORD'S and He will give you into our hands."
Read Psalm 2.
Why are the nations in an uproar
And the peoples devising a vain thing?
2 The kings of the earth take their stand
And the rulers take counsel together
Against the LORD and against His Anointed, saying,
3 "Let us tear their fetters apart
And cast away their cords from us!"
4 He who sits in the heavens laughs,
The Lord scoffs at them.
5 Then He will speak to them in His anger
And terrify them in His fury, saying,
6 "But as for Me, I have installed My King
Upon Zion, My holy mountain."
7 "I will surely tell of the decree of the LORD:
He said to Me, 'You are My Son,
Today I have begotten You.
8 'Ask of Me, and I will surely give the nations as Your inheritance,
And the very ends of the earth as Your possession.
9 'You shall break them with a rod of iron,
You shall shatter them like earthenware.'"
10 Now therefore, O kings, show discernment;
Take warning, O judges of the earth.
11 Worship the LORD with reverence
And rejoice with trembling.
12 Do homage to the Son, that He not become angry, and you perish in the way,
For His wrath may soon be kindled.
How blessed are all who take refuge in Him!
"For the eyes of the Lord move to and fro throughout the earth that He may strongly support those whose heart is completely His."
2 Chron. 16:9
Let's not forget what is the promise of God to those who chose the Lord's true fast in Isaiah 58:10:
"If you give yourself to the hungry and satisfy the desire of the afflicted, then your light will rise in darkness and your gloom will become like midday."   And look at verse 12: "And those from among you will rebuild the ancient ruins; you will raise up the age-old foundations; and you will be called the repairer of the breach, the restorer of the streets in which to dwell."
Does that remind you of the work of Nehemiah in ancient Israel?
"When I saw their fear, I rose and spoke to the nobles, the officials, and the rest of the people; "Do not be afraid of them; remember the Lord who is great and awesome, and fight for your brothers, your sons, your daughters, your wives, and your houses."
Nehemiah 4:14:
In times of crisis the urgency for followers of Jesus to "Abide" in Him could not be more absolute.  Read John 15:4-11
"Abide in Me, and I in you. As the branch cannot bear fruit of itself unless it abides in the vine, so neither can you unless you abide in Me. 5 I am the vine, you are the branches; he who abides in Me and I in him, he bears much fruit, for apart from Me you can do nothing. 6 If anyone does not abide in Me, he is thrown away as a branch and dries up; and they gather them, and cast them into the fire and they are burned. 7 If you abide in Me, and My words abide in you, ask whatever you wish, and it will be done for you. 8 My Father is glorified by this, that you bear much fruit, and so prove to be My disciples. 9 Just as the Father has loved Me, I have also loved you; abide in My love. 10 If you keep My commandments, you will abide in My love; just as I have kept My Father's commandments and abide in His love. 11 These things I have spoken to you so that My joy may be in you, and that your joy may be made full."
We all need to be reminded daily of the message of Galatians 6:2-10:
"Bear one another's burdens and thus fulfill the law of Christ."
And we dare not forget about the warning of 1 Peter 5:8:
"Be sober-minded; be watchful. Your adversary the devil prowls around like a roaring lion, seeking someone to devour."
With all the negative and seemingly hopeless conditions surrounding our generation, do you think God, the Holy Spirit, might be speaking to us to "encourage one another day after day?"  Read Hebrews 3:7-19.
"Therefore, just as the Holy Spirit says,
"TODAY IF YOU HEAR HIS VOICE,
8 DO NOT HARDEN YOUR HEARTS AS WHEN THEY PROVOKED ME,
AS IN THE DAY OF TRIAL IN THE WILDERNESS,
9 WHERE YOUR FATHERS TRIED Me BY TESTING Me,
AND SAW MY WORKS FOR FORTY YEARS.
10 "THEREFORE I WAS ANGRY WITH THIS GENERATION,
AND SAID, 'THEY ALWAYS GO ASTRAY IN THEIR HEART,
AND THEY DID NOT KNOW MY WAYS';
11 AS I SWORE IN MY WRATH,
'THEY SHALL NOT ENTER MY REST.'"
12 Take care, brethren, that there not be in any one of you an evil, unbelieving heart that falls away from the living God. 13 But encourage one another day after day, as long as it is still called "Today," so that none of you will be hardened by the deceitfulness of sin. 14 For we have become partakers of Christ, if we hold fast the beginning of our assurance firm until the end, 15 while it is said,
"TODAY IF YOU HEAR HIS VOICE,
DO NOT HARDEN YOUR HEARTS, AS WHEN THEY PROVOKED ME."
16 For who provoked Him when they had heard? Indeed, did not all those who came out of Egypt led by Moses? 17 And with whom was He angry for forty years? Was it not with those who sinned, whose bodies fell in the wilderness? 18 And to whom did He swear that they would not enter His rest, but to those who were disobedient? 19 So we see that they were not able to enter because of unbelief."
Today's poorly taught Christians need to rediscover the implications of what is written in several places like Hebrews 10:12-13 about the cause to which we are assigned.
"but he, having offered one sacrifice for sins for all time, sat down at the right hand of God, waiting from that time onward until his enemies be made a footstool for his feet."
Who does the world belong to?
"…who did Abram tell the king of Sodom about God?  Genesis 14:22 says: "But Abram said to the king of Sodom, "I have raised my hand to the LORD, God Most High, the Possessor of heaven and earth…"
Psalm 24:1-6
Is God able?
"Behold, I am the LORD, the God of all flesh; is anything too difficult for Me?"
Jeremiah 32:27
When you think about the enemies of God in the world today, do you have your hope in God or in man to deliver the righteous children of God by the grace of our Savior Jesus Christ?
The Devil may be "the god of this world (system)" the idol of people who ignore God Almighty, but that does not mean that Jesus has revoked the authority and jurisdiction that was validated by His resurrection.
"Wherefore he saith, When he ascended up on high, he led captivity captive, and gave gifts unto men."
Ephesians 4:8
When Jesus decreed from the cross, "it is finished" what remained yet to be done?
Colossians 2:15 says:
"He disarmed the rulers and authorities and put them to open shame, by triumphing over them in him."
When does the end come?
"then comes the end, when He hands over the kingdom to the God and Father, when He has abolished all rule and all authority and power.  For He must reign until He has put all His enemies under His feet.  The last enemy that will be abolished is death."
1 Corinthians 15:24-26
Are there enemies yet to be abolished besides the last enemy of death itself?
Read on to the last verse of chapter 15:
"Therefore, my beloved brethren, be steadfast, immovable, always abounding in the work of the Lord, knowing that your toil is not in vain in the Lord."