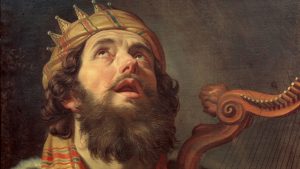 David, the second Jewish king lived a thousand years before Christ.  He was a man who faced tremendous stress in his life. Few of us today will face the kind of anxiety David experienced for more than 10 years of his life when he was constantly on the run from his enemies who were trying to kill him.  His psalms reveal keys that unlock powerful solutions even for today's high stress world.
"Listen to my prayer, O God, do not ignore my plea; hear me and answer me. My thoughts trouble me and I am distraught at the voice of the enemy, at the stares of the wicked; for they bring down suffering upon me and revile me in their anger. My heart is in anguish within me; the terrors of death assail me. Fear and trembling have beset me; horror has overwhelmed me. I said, "Oh, that I had the wings of a dove! I would fly away and be at rest—I would flee far away and stay in the desert; I would hurry to my place of shelter, far from the tempest and storm."
Psalm 55:1-8
One of the realities of life that our current physical science-based medical system has had to admit in recent years is that there are non-physical causes to poor health and disease. One widely accepted non-physical cause is "stress." It's quite well known today that the presence of stress in one's life, and how one deals with that stress, has a direct impact on one's health. Unfortunately, the solutions the medical system most often prescribes today for mental and emotional health are expensive drugs with serious side effects. So many people are "stressed out" that anti-depressant drugs have become a growing and prosperous business for pharmaceutical companies.
King David wrote in Psalm 55 that it wasn't just his enemies that caused problems, but also his "friends" and fellow believers:
"If an enemy were insulting me, I could endure it; if a foe were raising himself against me, I could hide from him. But it is you, a man like myself, my companion, my close friend, with whom I once enjoyed sweet fellowship as we walked with the throng at the house of God."
Psalm 55:12-14
Notice the signs of stress he wrote in that Psalm: "My thoughts trouble me and I am distraught… My heart is in anguish within me; the terrors of death assail me. Fear and trembling have beset me; horror has overwhelmed me." If David confessed these feelings to a psychiatrist today, he would have been prescribed anti-depressant drugs immediately to try and stabilize his emotional condition. He had all the signs of "mental disease" including the temptation to try and escape from all of his problems by running away from them: "Oh, that I had the wings of a dove! I would fly away and be at rest—I would flee far away and stay in the desert; I would hurry to my place of shelter, far from the tempest and storm." He was unstable, neurotic, and desperate. He would probably be labeled as "insane" today and be committed to a mental health hospital.
What was David's solution to his enormous stress?
David did not seek out physicians in his anxiety. He appealed to God for help, trusting that God would hear his prayers and change his condition. If you read the psalms of David you will notice that David consistently took two approaches to dealing with anxiety and stress.  Both approaches involved prayer and a personal relationship with his Creator.
David prayed to God, asking him to intervene in the circumstances of his life that were causing the stress:
"Confuse the wicked, O Lord, confound their speech, for I see violence and strife in the city… Let death take my enemies by surprise; let them go down alive to the grave, for evil finds lodging among them. But I call to God, and the LORD saves me. Evening, morning and noon I cry out in distress, and he hears my voice. He ransoms me unharmed from the battle waged against me, even though many oppose me. God, who is enthroned forever, will hear them and afflict them— men who never change their ways and have no fear of God."
Psalm 55:9-19
As strong and powerful as David was, in many circumstances he was powerless against his enemies and the rulers of his day. But he knew first hand that God was not powerless, and so he appealed to God to intervene.
David cast all of his worries and cares on God. He trusted in Him to take care of them all, and to sustain him with strength to endure everything.
"Cast your cares on the LORD and he will sustain you; he will never let the righteous fall."
Psalm 55:22
These two ways of using prayer to deal with stress are just as relevant to us today.  We are in the age of the New Covenant – Instituted by the death and resurrection of Jesus Christ. The believers in the early church were often arrested and persecuted, suffering tremendous stress. The same two principles were used to deal with their anxiety and stress.
Principle 1 – pray for God to intervene in the stressful situation.
Here is an example of what was prayed after the believers were arrested and released for preaching about Jesus and miraculously healing a man (they didn't follow the routine protocol for the healthcare of their day!):
"On their release, Peter and John went back to their own people and reported all that the chief priests and elders had said to them. When they heard this, they raised their voices together in prayer to God. "Sovereign Lord," they said, "you made the heaven and the earth and the sea, and everything in them. You spoke by the Holy Spirit through the mouth of your servant, our father David: "'Why do the nations rage and the peoples plot in vain? The kings of the earth take their stand and the rulers gather together against the Lord and against his Anointed One.' Indeed Herod and Pontius Pilate met together with the Gentiles and the people of Israel in this city to conspire against your holy servant Jesus, whom you anointed. They did what your power and will had decided beforehand should happen. Now, Lord, consider their threats and enable your servants to speak your word with great boldness. Stretch out your hand to heal and perform miraculous signs and wonders through the name of your holy servant Jesus." After they prayed, the place where they were meeting was shaken. And they were all filled with the Holy Spirit and spoke the word of God boldly."
Act 4:23-31
Principle 2 – cast all our anxieties and care on God, trusting him to take care of all our problems and to sustain us with his strength:
"Do not be anxious about anything, but in everything, by prayer and petition, with thanksgiving, present your requests to God. And the peace of God, which transcends all understanding, will guard your hearts and your minds in Christ Jesus."
Philippians 4:6-7 – prescription for mental health
"Cast all your anxiety on him because he cares for you. Be self-controlled and alert. Your enemy the devil prowls around like a roaring lion looking for someone to devour. Resist him, standing firm in the faith, because you know that your brothers throughout the world are undergoing the same kind of sufferings. And the God of all grace, who called you to his eternal glory in Christ, after you have suffered a little while, will himself restore you and make you strong, firm and steadfast. To him be the power forever and ever. Amen."
1Peter 5:7-11
These are the two biblical principles for dealing with anxiety and stress, and they are the guiding principles for mental health. No drugs are needed but there is a requirement. It requires a relationship with God through Jesus.  And this is not just an intellectual knowledge about him. So the first step is the spiritual rebirth.  That's something we need to seek and find for ourselves.
How do you deal with anxiety and stress? The two principles written about here are time-tested principles that have been used for thousands of years, long before modern-day pharmaceuticals came into the market place with our current medical system. They are backed by a guarantee from the Creator himself, the one who formed and fashioned you while still in your mother's womb. Best of all, they are free!
"He himself bore our sins in his body on the tree, so that we might die to sins and live for righteousness; by his wounds you have been healed. For you were like sheep going astray, but now you have returned to the Shepherd and Overseer of your souls."
1Peter 2:24-25
"For the wages of sin is death, but the gift of God is eternal life in Christ Jesus our Lord."
Romans 6:23
Do you want a prescription for drug-free mental health?
"Do not be anxious about anything, but in everything, by prayer and petition, with thanksgiving, present your requests to God. And the peace of God, which transcends all understanding, will guard your hearts and your minds in Christ Jesus."
Philippians 4:6-7