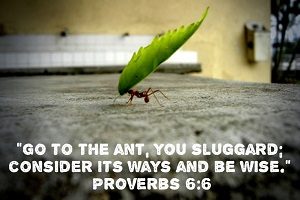 I heard about how Jim Rohn, the well-known business trainer, taught about a very simple yet powerful concept – the ant philosophy.
The Bible teaches the wisdom of observing the humble ant and learning her ways.  Maybe we should all talk with each other from time to time about the characteristics of ants that should apply to our own lives as humans.
Do we value success?  Survival?  Community?  Progress?  Accomplishment?  Overcoming obstacles?  Endurance?  Resourcefulness?
What other values can you think of and why everybody should study ants? (more…)