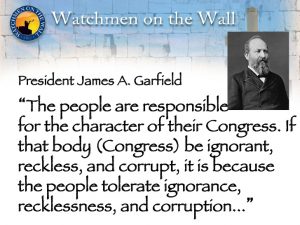 "Thus says the Lord: 'Stand in the ways and see and ask for the old paths, where the good way is, and walk in it; then you will find rest for your souls… Also I set watchmen over you, saying, 'Listen to the sound of the trumpet!'." Jeremiah 6:16-17
The key defining Bible passage about watchmen is Ezekiel 33. Read it. The concept is simple. Watchmen are appointed to watch out for the safety of others. It's their duty. If nothing else, every Christian, especially heads of family, has someone else God wants them looking out for.
Source: Peter Hammond, Frontline Fellowship email 8/8/14 – Legacy show for 10/08/19
Since 1914, God's people have been imperiled by a century-long war. It's a wide-ranging conspiracy to defeat the nations that have been defenders of Christian civilization for centuries. You've heard plenty of bad news – you may even wonder, like the first century believers, if the Roman government is bringing on God's judgment of the end of the world.
Do we tend to forget something? What did Jesus speak before leaving earth?
Matthew 28:18 – "All authority has been given to Me in heaven and on earth…"
Do you think that gave the early church boldness after Pentecost to do what he said in the next part?
"…Go therefore and make disciples of all nations, baptizing them in the name of the father and the son and the holy spirit, teaching them to observe all that I commanded you; and LO, I AM WITH YOU ALWAYS EVEN TO THE END OF THE AGE."
Recognising the Threats
The threats to Bible-believers are very real and extremely serious. Never have God's Covenant people faced such extraordinary hostility from such an astonishing variety of enemies. Centuries of Evangelism and discipleship have been eroded. Historic advances are being weakened and threatened on every side. Schools and universities are hijacked by radical atheism. Churches are hijacked by secular humanism.
We have good reason to ask God, "O God, how long shall the adversary reproach? shall the enemy blaspheme thy name forever?" (Psalm 74:10). (more…)