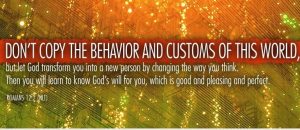 The Bible has a lot to say about avoiding deception and renewing our minds with the purity of truth and righteousness, which is a right standing with our Creator and Savior.  In today's world the person who truly wants to follow Jesus and be led by the Holy Spirit has a great challenge to sort out the influences in his life that can potentially be very dangerous.  It takes prayerful work and spiritual discernment to make the best choices.
Listen to the complete program here
It's no surprise to most adults in our society that a highly sophisticated culture of so-called "elitists" are manipulating many aspects of public perception.  You can find some helpful notes about modern day mind-control in articles posted at ReclaimYourLegacy.com where we have brought our attention to the key verse in the Bible, warning believers to be highly alerted to the life-threatening dangers of mind-controlling deceptions that can easily draw us astray from the pathway of pure and undefiled faithfulness to our Lord Jesus Christ.
Colossians 2:8 says:
"Beware, lest any man spoil you through philosophy and vain deceit, after
the tradition of men, after the rudiments of the world and not after Christ."
John Thomas, of Health Impact News, has done a superb job of researching this battle for our minds and our bodies. His insights for all of us in today's world give some reasons to take the warning of Colossians 2:8 much more seriously than many of us might have considered before.  In today's program I'll be quoting much from his article titled – "The Battle for America's Soul: Ways to Combat Mind Control."  http://healthimpactnews.com/2016/the-battle-for-americas-soul-ways-to-combat-mind-control/