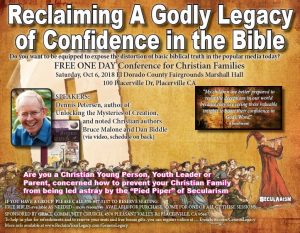 DO YOU WANT TO BE EQUIPPED TO EXPOSE THE DISTORTION OF BASIC BIBLICAL TRUTH IN THE POPULAR MEDIA TODAY?
ARE YOU A CHRISTIAN YOUNG PERSON, YOUTH LEADER OR PARENT, CONCERNED HOW TO PREVENT YOUR CHRISTIAN FAMILY FROM BEING LED ASTRAY BY THE "PIED PIPER" OF SECULARISM?
This special one-day event is designed to inform and equip alert parents and leaders to change the trend that is literally captivating and ensnaring the next generation of children who would otherwise be learning to fully follow Christ so they can expose the fallacies of the secular world.  See the details at www.ReclaimYourLegacy.com/GenesisLegacy and share the event with your friends at https://www.facebook.com/events/568393846925396/ — reserve seats at https://www.eventbrite.com/e/genesislegacy-tickets-50054218515?aff=efbeventtix –> see the announcement also here –> www.ReclaimyourLegacy.com/GenesisLegacy
Listen to the complete announcement by clicking the start button below
The so-called millennial generation and others are being overwhelmingly deceived by "high-sounding" ideologues of Secularism.  It's no secret that the world of news media and the big government business of education has the whole society subjected to their indoctrination. They even have many esteemed church leaders 'charmed' into thinking they can't defend the Bible with intellectual honesty.  With God's help, this alarming situation will change… but only when fearless Champions of God's INERRANT WORD take seriously the challenge to Renew their minds by testing the vain imaginations of those who willfully ignore the knowledge of God that the Creator has made evident for all to see.
What do students learn when they patiently "test all things?"  What do they see when they investigatively  "speak to the earth?"  What do they discover when they deliberately "ask the beasts" of the world?  What amazing insights are gained when they "inquire of the former age" about the "world that then existed" before the Flood? (more…)